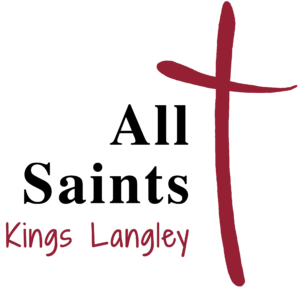 We would love you to join us at any of our regular services.
We are able once again to hold Sunday services in a near normal way – you can find more details about arrangements in place for these below.  The monthly Church in the Wild is continuing, and our children's activities and creche have resumed.
Click here for details of our alternative 'live streamed' services.
Services @ All Saints
Sundays
8.00am – Said Eucharist – a short quiet service on the third Sunday of each month (also at St Mary's Apsley on the first Sunday and at Holy Trinity Leverstock Green on the second Sunday of each month).
9.30am – Family Eucharist – our main Sunday service with hymns and a sermon.  There is a Sunday school group "Saints on Sunday" during this service.  The service lasts about an hour and is followed by coffee. On the third Sunday of each month we have an 'all age' service suitable for all the family. This service is also live streamed online.
11.15am – Church in the Wild – A new, informal outdoor service especially suitable for children and families at 11.15am on the first Sunday of the month, with a different theme each week.  Refreshments from 10.30am.
Tuesday – Friday
8.30am Morning Prayer is usually said (currently suspended)
Coronavirus (COVID-19)
We're very pleased that public worship in our church building  takes place with our usual 9.30am Parish Eucharist.
There's now no need to sign up beforehand as we no longer have to do Test and Trace (but we do encourage you to check in with the QR code if you can). A reminder of the changes:
+ Please wear a mask on entry to Church and for the duration of the service (including to receive Communion), and for singing. Remember the mask is a precaution to protect others, rather than the wearer – we're caring for each other.
+ Please give each other a bit more space, especially on entering, leaving and moving around the Church.
+ Communion remains in one kind (bread only) and will be received standing.
+ Everyone will be able to sing, but with your mask on please.
+ The back four pews in the aisles will remain fully socially distanced for anyone who feels more comfortable with this.
You can find our risk assessment here.
Children are very welcome to attend and our children's group 'Saints on Sunday' and creche have restarted.
If you're unable to join the service in church on Sunday, click here to see how to join online.