Welcome to All Saints Kings Langley
We are a welcoming, inclusive church for all ages in the heart of Kings Langley.  We aim to worship God, care for each other and serve our community.
---
Coronavirus (COVID-19)
NOVEMBER LOCKDOWN
Due to the second lockdown the church is not open for public worship but it remains open for private prayer and the use of – or donations to – the food bank.  For information about online services, click the button above.  If anyone is in need of support they are welcome to call Father James at the vicarage 01923 903531.
Open Church
All Saints is open for private (i.e. individual) prayer every day from 9.30am – 5pm. Please be mindful of others and observe social distancing. There is hand sanitizer available at the doors and signage to help you visit safely. Everyone is very welcome to make use of the space for private prayer and devotion or just for quiet reflection. We do hope you will feel free to make use of the church building in this way.
Foodbank
There is an 'open table' foodbank at the back of church. It is unattended and anyone who needs to should feel free to come and take food for themselves or neighbours in need. If you are able to donate to the food bank, then non-perishable food and toiletries will be very welcome. Any surplus donations will be given to DENS Dacorum Foodbank.
A 'Shoebox for Christmas' campaign for needy children of Kings Langley is taking collections – please see details in What's On below.
Local support and Buddy system
There will be some who have spent much time alone recently and who may be unable to get out of the house to do the things they would usually do. Those who have practical needs can contact Kings Langley Good Neighbours: www.klgna.org or 07790 668672. Aside from practicalities, there is much worry, uncertainty and loneliness. If you would like any pastoral support please get in touch with me, my contact details are below. If you would appreciate someone to be in touch with you regularly I can pair you up with one of our 'buddy system' volunteers.
If you need help or would like to speak to me about anything please call 01923 903531 or email james.a.mcdonald@live.co.uk
If you would like to help others then please get in touch with me or with Kings Langley Good Neighbours. If I am unable to answer the phone (quite likely) then please leave a message and I will get back to you as soon as I can.
As the situation continues to change, be assured that All Saints is still here praying for, and serving our village.
Jesus said, 'I am with you always, even to the end of the age'. May his peace be always with you..
With my love and prayers,
Fr. James
About All Saints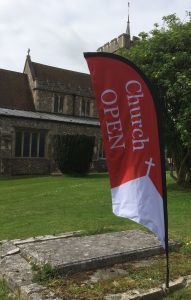 For more than 800 years this has been and continues to be where we worship God, and we warmly invite you to join us.  Although it has a long history, All Saints is alive and active and offers traditional worship, supported by a robed choir, where we can come to find refreshment, encouragement in our faith, and friendship.
Your Parish Church of All Saints is open all day every day – usually from around 9.30am until 5pm – everyone is welcome to come in for a moment of quiet prayer or contemplation, to light a candle, or to admire the beautiful and historic building. Unfortunately due to Covid-19 it is currently closed.
The Church Hall, built around 30 years ago, provides modern amenities that are regularly used by many organisations within the village and is available to hire.
Safeguarding @ All Saints
As part of the Diocese of St. Albans in the Church of England, we are committed to safeguarding as an integral part of the life and ministry of the Church. This means taking action as a church to promote a safer culture where the welfare of children, young people and adults is paramount, to prevent abuse occurring, to protect those at risk and to respond well to those that have been abused. We will always take care to identify where a person may present a risk to others, and act accordingly.
The Diocesan Safeguarding Adviser is Mr Jez Hirst who can be contacted at 01727 818107 / 07867 350886  safeguarding@stalbans.anglican.org  
The Revd. James McDonald
Team Vicar
01923 903531
james.a.mcdonald@live.co.uk
All Saints' Church
Church Lane
Kings Langley
WD4 8JS
01923 266596
Office opening hours:
Monday and Wednesday 7:30am to 2:30pm,
Thursday 12:00pm to 3:00pm, Friday 11:00am to 2:30pm.
Closed Tuesday.
Church Wardens
Sheila Ashman 07785 516690
Ingrid Allen 01923 268253
Co-ordinator for Safeguarding
Lynne Head  07496 994091