All Saints Food bank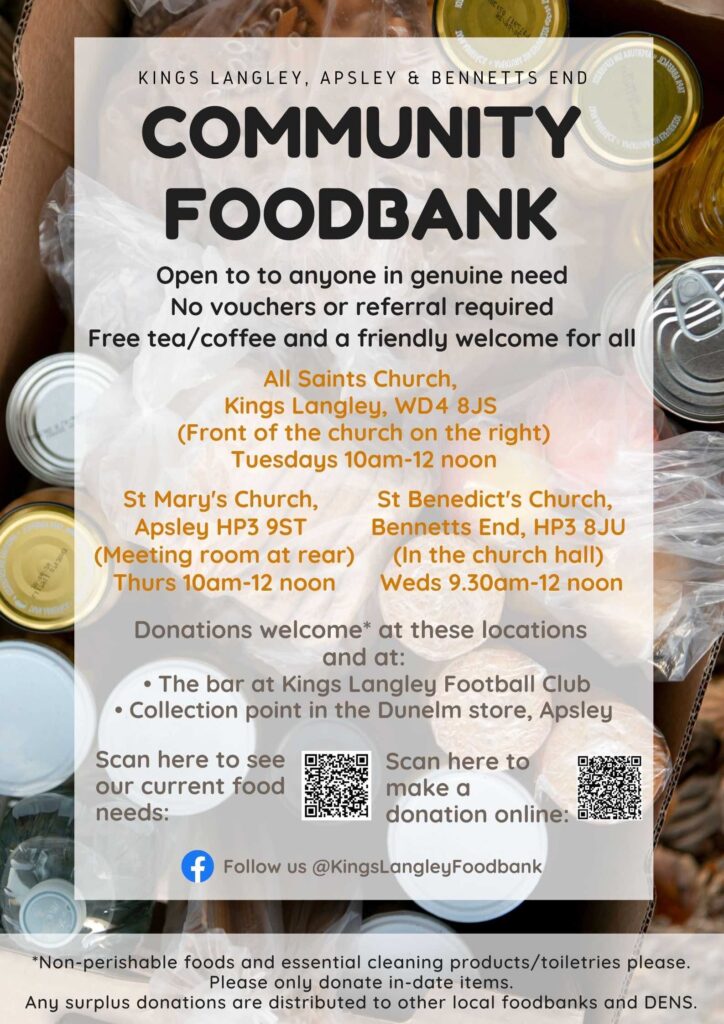 As well as donations of food and toiletries/cleaning products which are always very welcome, we're now able to accept financial donations, via the cash envelopes available at all three churches (All Saints, St Mary's and St Benedict's) or instantly and securely online with credit/debit card, Apple Pay or Google Pay via our SumUp page:
CLICK HERE
Every penny of your donation will be used directly to purchase whatever food and essentials are most needed. Thank you!
Items currently needed at the Food Bank are detailed below.  Please leave donated items in the pews near the door.  Thank you!
Baked Beans
Baby supplies – nappies, baby wipes and baby food
Biscuits
Cereal
Cleaning Sprays
COFFEE
Crisps
Deodorant,
Feminine products – sanitary towels and tampons
Fruit juice
Hand wipes
Hot Chocolate
Jelly
Laundry liquid detergent,
Laundry powder
Lentils,
Mug shots
Pasta Sauces
Pot Noodles
Rice Pudding and Custard
Shampoo
Shower gel
Soap
Soup
Sponge puddings
Squash
Tinned Custard
Tinned Fish
Tinned Fruit
Tinned Meat (Ham / Corned Beef/meatball/hotdogs)
Tinned Potatoes
Tinned spaghetti
Tinned tomatoes
Tinned vegetables
Toilet paper,
Toothbrushes
UHT milk
Washing Up Liquid