The Covid-19 pandemic's was a very challenging time for Holy Trinity, not least financially, as the footfall has been drastically reduced.  Your giving allows us to keep our church flourishing and growing, and helps us to continue working to support our parishioners and the local community.  We will be very grateful for your support.
If you would like to make a donation online please click the link below.
The heart of the giver makes the gift dear and precious.
Martin Luther
You can also make a Donation using this QR Code with your Smart Phone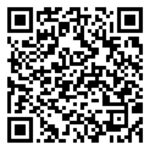 With grateful and prayerful thanks for your support, Holy Trinity Parochial Church Council.