St Mary's Groups and Activities
Weekly Activities
Sunday School meet during the 10.00am service every Sunday.
Bellringing Practice is Monday at 8.00pm.
Buzzy Bees – a very lively mums/dads/grandparents and toddler group meets in the refectory at 9.30am every Tuesday during term time.
The Working Party meets on Mondays and Fridays 10.00am – 12 noon cleaning the church and maintaining the churchyard.
Thursday morning Eucharist is at 9.30am followed by refreshments and then study group.
Saturday Morning Community Cafe from 10.00am until 12 noon serving refreshments.
New members are always welcome at any of these activities.
Developing our Faith
We have several home groups / study groups. One is most Thursday evenings at 8pm on The Manor Estate, one is most Thursday mornings at Church after the 9.30am Eucharist and there is a monthly group which prays specifically for health and healing. Throughout the year there are Lent and Advent study groups as well as other meetings and occasions for nurturing faith and spirituality.
Every third Tuesday morning we hold services at both Florence Longman House and Watermill Care Home.
Messy Church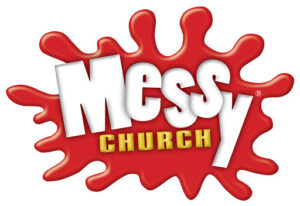 The first Messy Church at St Mary's was held in January 2013 and now takes place every month (normally on the third Sunday of the month) from 3pm to 5.30pm. So what is it all about – it is a church for adults and children and its fun. It includes some creative time to explore a biblical theme with music, drama, dance, games and mess. The afternoon finishes with a simple meal together. So why not come and join us?