Welcome to St Mary's Apsley End
We are a busy, active church, very keen to welcome any newcomers or visitors to our services or to any of our other events.
Services in our churches as we come out of Lockdown 3
Worship in St Mary's & St Benedict's at the moment:
Both churches are now open again for worship in church ……..Hurray!
We are aiming to have a 'Family Service' about once per month, and on that day Sunday School will be combined with the service.
Please keep an eye on the calendar for details of what is on.
If you would like to attend in person in either church please book in as before:
For St M's: by phone 07946 736267 or email stmarysapsleyend@gmail.com . For St B's: by phone 07950 921707 or email enitanonabamiro@gmail.com.
We will continue to Zoom most of the services too (links via the calendar as always), but it's so good to have people back in our churches!
What's On @ St. Mary's
St Mary's 150th Anniversary celebrations
This September will be the 150th anniversary of St Mary's and so to celebrate we will be having the following:
Sat 11th September – Lunchtime Barbecue
Sun 12th September – Bishop Alan will be preaching at St Mary's
Food Bank
St Mary's is now an outpost of the Kings Langley free foodbank. This is open every Thursday from approx 9.30 to 3.30pm. So anyone (of any creed or none) in need of food is very welcome to pop into our porch to take what they need at that time. It is unmanned and no vouchers are required.
Donations of non perishable goods (which are most welcome!) can be left on Thursdays at the church or else at any time at Dunelm Mill who are very kindly offering their services to support this initiative.
St Benedict's Church in Bennett's End is now also an outpost of the foodbank and is open on Wednesday's from approx 9.30 to 3.30pm.
Foodbanks News:
Open Table Foodbank in has been established at All Saints Kings Langley and has now extended to having a food bank at St Mary's Apsley and St Benedict's Bennett's End. A small team of volunteers currently manages the foodbanks but in order to sustain this vital service in the community new volunteers are needed.
There are three areas in which help is needed:
– Communications and promotion (weekly)
– Stock replenishment at All Saints (daily)
– Stock replenishment at St Mary's / St Benedict's (weekly)
In order to ensure the smooth operation of the foodbank, a co-ordination group is also needed. This would consist of the following roles:
– Co-ordinator
– Deputy co-ordinator
– Communications lead
– Stock lead (All Saints)
– Stock lead (St Mary's/St Benedict's)
If you can help with any of these roles, either on the co-ordination group or as a volunteer, contact the Vicar of All Saints, Fr. James McDonald on 01923 903531 (james.a.mcdonald@live.co.uk) or the Parish Administrator, Norma Howie on 01923 266596 (saintskl2@tiscali.co.uk).
St Mary's Church: Open for Private Prayer on Thursdays.
St Benedict's Church: Open for quiet prayer on Wednesdays.
Our churches are open for Private Prayer even during Lockdown 3, and you are VERY welcome.
Every Wednesday, St B's church and every Thursday, St M's church are open from about 9.30am until sometime between 3pm and dusk and everyone is most welcome to come to enjoy some quiet time with God.
For Covid safety at St M's, please only use the side chapel (on the left as you go in). Also please take a laminated sheet from the welcome table at the back of the church and place it where you have sat. This will enable other people to know where not to sit and also help us with our sanitising later.
Also please complete the visitor list and scan the NHS-Covid-19 Track & Trace QR code.
You are welcome to light a candle and place it in the candle stand (however, please bring your own lighter or matches), and to write prayer requests and place them in the wooden box at the front of the chapel.
Feedback on whether this opening of the church is useful with suggestions to improve it is very welcome.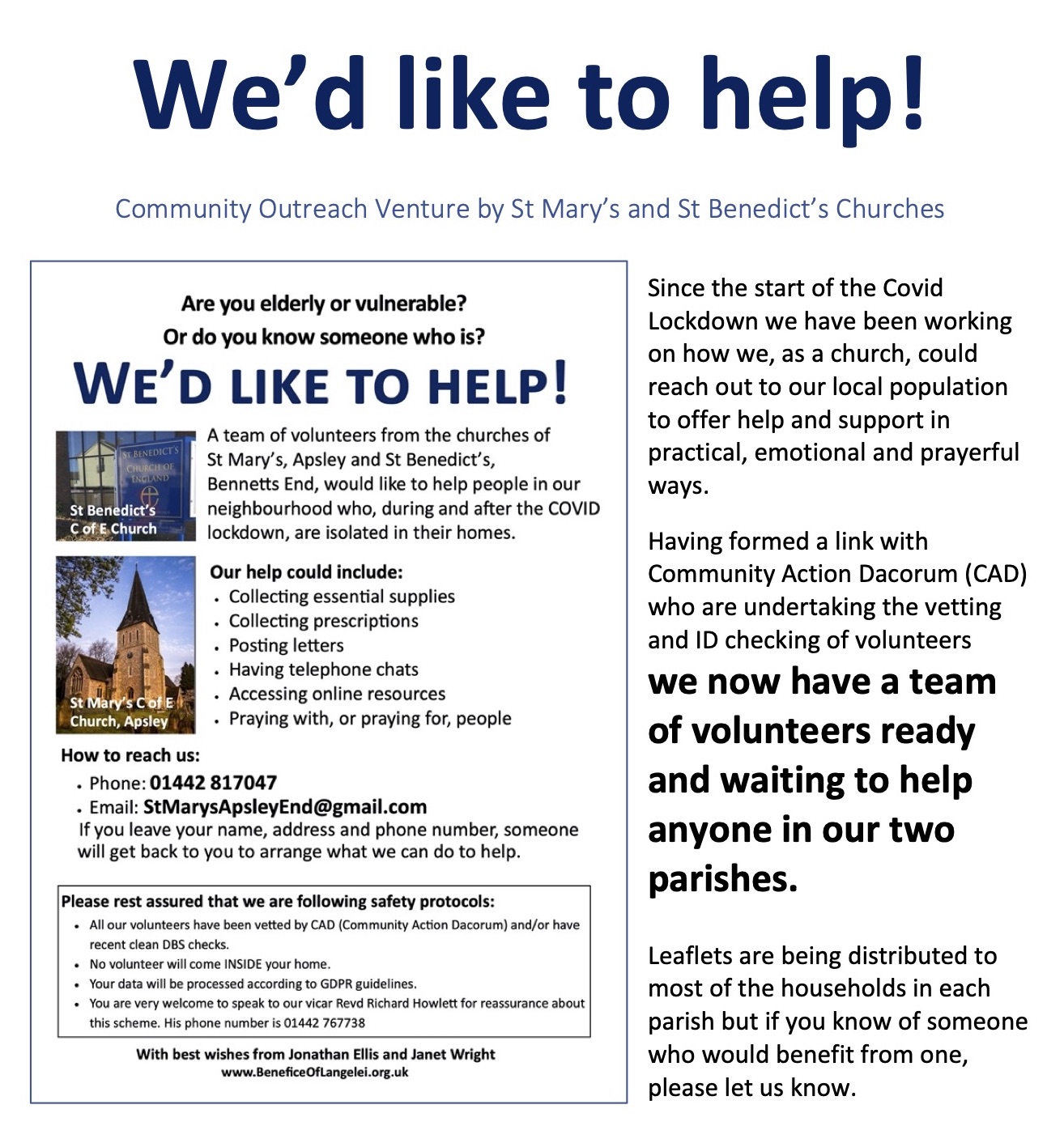 Weekly financial giving to the church
Our church continues to have virtually all of its usual expenses to pay despite not being fully open at the moment.
So, if you normally make your weekly financial offering to St Mary's in cash, and if you are in a position financially to do so, please could you now consider making your offering online either on a weekly basis or by setting up a standing order?
Please contact our treasurer, Peter Bladon on 01442 257108 or bladon2010@btinternet.com for details.
I'm sure he'll be delighted to hear from you!
Or you can make a one off donation here
Safeguarding @ St Mary's
As part of the Diocese of St. Albans in the Church of England, we are committed to safeguarding as an integral part of the life and ministry of the Church. This means taking action as a church to promote a safer culture where the welfare of children, young people and adults is paramount, to prevent abuse occurring, to protect those at risk and to respond well to those that have been abused. We will always take care to identify where a person may present a risk to others, and act accordingly.
Services @ St Mary's
Sundays
8.00am – Said Holy Communion (First Sunday of the month)
10.00am – Sung Eucharist & Young Peoples' Groups
5.00pm – Evening Prayer (Second Sunday of the month only) (6.30pm Apr-Oct)
3.00pm – Messy Church (every month normally 3rd Sunday).
Weekdays
Thursdays at 9am – Morning Prayer.
Thursdays at 9.30am – Said Eucharist
---
Contact us @ St Mary's
Contact Details
The Revd. Richard Howlett
Team Vicar
01442 767738
Email: revrhowlett@gmail.com
Church Wardens
Harry Graham-Brown 07918 071542‬
Sylvia Low 07742 610932‬‬
Safeguarding
Susan Rivett 07908 644600
Katharine Harper 07881 602024
St Mary's Church
London Rd
Apsley
Hemel Hempstead
HP3 9ST
01923 266596 (Benefice Office)
---