NEW CHURCHYARD WALK LAUNCHED.
In these challenging days of lockdown, do come along to the churchyard for a peaceful walk. Pick up a leaflet from the porch, follow the white marker posts, and spend some time reflecting with words of scripture. Lots of autumn beauty to enjoy too. You are all most welcome.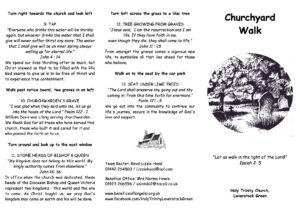 I'm glad to be back in church – even if there's hand sanitiser instead of holy water – Click the link below to read the article.
News form the Church of England and more – click on the links below.
Students turn to prayer and support offered by university chaplain as congregation grows on campus.  Click on the link below to find out more.
Students turn to prayer and support
Church supports young people's mental health at schools and places of worship during lockdown
Children and young peoples' mental health has been supported by a ground-breaking, large-scale project from the Diocese of Manchester. Click the link below to find out more.
Church supports younger peoples mental health
COVID-19 survivor says Daily HOPE line "strengthened me"
Daily HOPE, the free 24-hour worship phoneline launched by the Archbishop of Canterbury, Justin Welby on 26 April, has received more than 170,000 calls, totalling more than two million minutes of listen time.  To find out more click on the link below.
Covid 19 Survivor used daily hope line
Faith leaders make call for environment-focused economic recovery
First online prison church service to be broadcast by Church of England
First online prison church service
St Albans Cathedral
The Great Survivor Tour
Walk the outline of St Albans Cathedral in the company of one of our experienced guides.
Stand on the hillside where Alban, Britain's First Saint, was martyred and discover how Alban's church has survived revolt, collapse and decay.
Hear the stories of the communities and people who have loved and saved it over the centuries – monks, martyrs, parishioners, Victorian restorers, royals and archbishops.
Click the link below to see how the Cathedral continues to grow and change into the 21st century.
Cathedral's black Jesus is a 'bold statement'  BBC News