ITV Hub
Further coverage of the Archbishop of Canterbury's appearance on ITV Good Morning Britain yesterday, for the launch of the Prayer for the Nation initiative for people to join in prayer every day during February. Click on the links below for more information.
NEW CHURCHYARD WALK LAUNCHED.
In these challenging days of lockdown, do come along to the churchyard for a peaceful walk. Pick up a leaflet from the porch, follow the white marker posts, and spend some time reflecting with words of scripture. Lots of autumn beauty to enjoy too. You are all most welcome.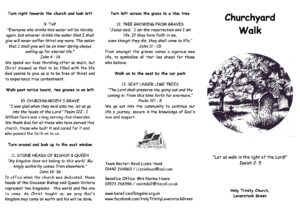 I'm glad to be back in church – even if there's hand sanitiser instead of holy water – Click the link below to read the article.
News form the Church of England and more – click on the links below.
Primary school pupils given targeted mental health assistance in pilot church project
Children of all age groups are receiving mental health support after churches came together to provide counselling services in schools.  Click the link below to learn more.
Primary School Children's Mental Health
Church supports young people's mental health at schools and places of worship during lockdown
Children and young peoples' mental health has been supported by a ground-breaking, large-scale project from the Diocese of Manchester. Click the link below to find out more.
Church supports younger peoples mental health
COVID-19 survivor says Daily HOPE line "strengthened me"
Daily HOPE, the free 24-hour worship phoneline launched by the Archbishop of Canterbury, Justin Welby on 26 April, has received more than 170,000 calls, totalling more than two million minutes of listen time.  To find out more click on the link below.
Covid 19 Survivor used daily hope line
Church Times
Further coverage of the launch of a new app by the Clewer Initiative (see news) which aims to tackle labour exploitation and eradicate modern slavery in the farming sector. The project has been supported by the Church Commissioners and other high profile bodies.  For more information click on the link below.
BBC Countryfile
Feature on the work of the Borderlands Rural Chaplaincy, an initiative of the Diocese of Hereford and the Shropshire and Marches Methodist Circuit, which provides pastoral support to farmers, farming families and agricultural communities across Herefordshire, Shropshire and Eastern Powys.
Faith leaders make call for environment-focused economic recovery
First online prison church service to be broadcast by Church of England
First online prison church service
St Albans Cathedral
Cathedral's black Jesus is a 'bold statement'  BBC News
Response from the Bishop of London to new Covid-19 restrictions – click on the link below for more information.