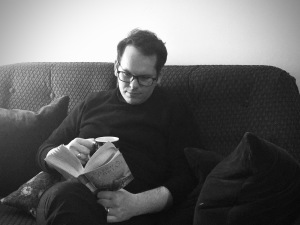 Dear Friends,
'Six days shalt thou labour, and do all thy work: But the seventh day is the sabbath of the Lord thy God' is all very well in 'normal' circumstances. But from the conversations I'm having with many people, the days are all blurring into one. Much the same work, rest or boredom (depending on circumstances and perspective!) every day. I'm sure I'm not the only one who's been finding it hard to find 'sabbath' in these strange days. Many of those things I'd usually do on my rest day have been off limits: a walk to a pub for a pint (or two), a trip to see family, a day out with friends, a visit to a National Trust property.
A change is as good as a rest, but that is precisely the thing we haven't been able to do of late: change the daily record. And now, paradoxically we are facing a new set of changes in the coming weeks: some children returning to school, non-essential shops re-opening and further easing of the lockdown. And although we haven't been able to change the daily record, what I'm hearing is that we sure have changed our way through a raft of emotions on a daily basis: from excitement (all those books you were going to read) to frustration (all those books you haven't read…), from loneliness to overwhelmed and from calm and accepting to, well, less calm, possibly involving a little cry or a large glass of wine, or both! In the midst of all this it's difficult for many of us to find Sabbath, to find rest.
Sabbath is really important. The clue is that it's one of the 10 commandments. But it isn't important just 'because God said so'. It's important because it's for our wellbeing. In the mythical creation story, God finishes the work of creation in six days and then creates Sabbath – rest, refreshment, restoration – on the seventh day. It's built into creation, for us. Jesus himself says, 'the Sabbath is made for man, not man for the Sabbath' (Mark 2.27). The Sabbath isn't there to give us something else to do, to guilt trip us into tuning into church 'because we should', or to feeling bad because we haven't made space for ourselves, our loved ones, our hobbies (remember all that reading?) or God. Sabbath is there to give us permission to find rest in these things when we can. Permission to waste time being me. For that is Sabbath – to waste time being me. And in doing so to be with the God who loves you as you are.
The archetypal story of the Old Testament, the Exodus, is a story of restoring Sabbath. In Egypt, God's people had no rest. Time was pyramids and the Israelites were cogs in Pharaoh's machine. This wasn't what was meant for God's people. So God rescued them and gave them the Ten Commandments, including the one about the Sabbath. Later, the prophets had to remind the people of this. When they paid lip-service to the commandments by going through the motions on the Sabbath, when they looked to Egypt or one of the other great powers for protection, the prophets reminded them that they had been saved for rest. 'For thus said the Lord God, the Holy One of Israel: In returning and rest you shall be saved; in quietness and in trust shall be your strength (Isaiah 30.15).
Meanwhile, the New Testament is about the restoration of true Sabbath. Jesus rests in the grave on the Sabbath day and returns to his disciples on the first day of the week to wish them the rest of heaven ('peace be with you' John 20.19). In a world of the false security of filling every minute with your own timetable, or someone else's timetable, Jesus's word is peace. Stop. Have permission to be you. Sometimes that is easier said than done but be encouraged to find the space to enjoy wasting time being you with the God who loves you as you are. With a hobby, with a book, with friends and loved ones (within the limits of the current guidelines!) in prayer, in online worship. Don't beat yourself up that the days feel the same. Don't beat yourself up that you feel anxious about the changes to come. Find some ways to say, 'this is Sabbath, and it is good'.
With my love and prayers for you,
All Saints Vicarage
Feast of Lanfranc, Archbishop of Canterbury, 28th May 2020
This Sunday at All Saints
9.30am      Video Eucharist for Pentecost. Head to our online services page to join in, to find the order of service and for more resources.
10.30am     Zoom coffee and catch up, invite via our mailing list. (To join the mailing list, please email: allsaintskingslangley@outlook.com)
Dear Friends,
Before I get into the main part of what I have to say this week, thank you to everyone who has responded to my questions in Keeping in Touch 9. It's not too late to let me know your thoughts! I was asking for feedback on two questions:
1. What have you found helpful in sustaining our church life and would like to see continue while we can't meet in person?
2. What would you like to see continue after we get back in the building and what would you like to return to how it was before?
Please let me know by email or give me a call.
Back to this week, and I am writing this on the feast of the Ascension. After 40 days of appearances Jesus meets his disciples one last time and departs from them to be with his heavenly Father. The version from the book of Acts (Acts 1.6-11) has Jesus being taken up by a cloud. This is the depiction that has inspired most of the art of the Ascension, the disciples shown grouped under a radiant cloud with just the divine feet peeping out underneath! The point is that Jesus is no longer in one time and place. Because he has returned to the Father he can be in any time and place, in our midst and in our hearts.
Ascension Day also marks the beginning of a traditional time of prayer for the coming of the Holy Spirit which lasts until Pentecost (a week on Sunday). This time of prayer has been given a 're-brand' in recent years as the global prayer initiative 'Thy Kingdom Come'. The idea is that Christians of all denominations pray for the church and the world and for more people to come to know Jesus.
Many people are turning to prayer and worship in this difficult time. You may have seen the research published by Tearfund earlier in May that 1 in 4 adults have watched online worship since the beginning of Lockdown. Of those who tune in 30-40% watch most or all of what is offered. During these days of prayer, can I invite you to pray for those who are connecting with the church and discovering or rediscovering their faith at this time. One of the simplest, yet most ancient and powerful ways to pray is to use a mantra, a repeated phrase. Many people find it helps to create a space in their minds and hearts in which to meet with God. You may like to give it a go during this time of prayer, using the phrase 'Thy kingdom come'. For those of us who can get online, you will find all sorts of resources for getting involved on the diocesan website.
Ironically, just at a time when more people want to connect with the church, churches across the country find themselves in a difficult financial situation, and All Saints is no exception. I know I have written recently to you about this. But, to coin a phrase, 'let me level with you'. We are facing a deficit of around £13,000 this year, assuming (quite reasonably) that we will not be able to hire out our hall or meet for fundraising for the rest of the year. We are considering some online and socially distanced fundraisers, but this will not cover the shortfall. If you usually give by cash during the collection in church, please can I ask you to consider joining our planned giving scheme? If you give using an envelope, please can I ask you to consider changing to standing order? Both these things make life easier for our treasurer and our budgeting. If you already give by standing order and haven't done so already, please can I ask you to consider reviewing the amount you give. To join our planned giving scheme, to sign up to gift aid, or to change from the envelope scheme to standing order please contact Eric Martin: 01923 267604. To make a one-off donation please contact our treasurer Patricia Humberstone: allsaintstreasurer@btinternet.com or you can also click here to give online.  Please gift aid where possible. Thank you to those who have already responded to this situation.
It is worth saying that I have no idea what individuals give (and I have no wish to!) and that each person faces different circumstances. You will know what is right for you. As a guide, the Church of England invites us to consider giving 5% of our income. This is based on the Biblical principle of the tithe. In the Old Testament, God's people would give the first tenth of everything to God. The Church of England suggests that we set a tenth of our income aside in the same way for charity, giving half to causes close to our hearts and the other half as our giving to our parish church. I follow this principle, giving around 5% of my income to All Saints.
God has given himself to us in the person of Jesus, who after his ascension is among his church, the great cloud of witnesses. If we want the church to continue to be here and to offer ministry, prayer, pastoral care and support in our community then we need to meet God's generosity with our own. I'm aware not everyone is in a position to give as they might wish to charity or church at the moment. If you are a facing a difficult financial situation and need practical help then please get in touch with me and I will liaise with Kings Langley Good Neighbours, or you can contact them directly on their website or 07790 668672.
This coming Sunday I am inviting everyone to join the service which the Revd. Lizzie Hood is leading as I am taking a Sunday off (holiday destination: the Vicarage Garden!). Find it on the Holy Trinity section of the website.  For those of us who are not online, I have included some seasonal prayers and a Sonnet for Ascension Day along with Signpost.
At the Ascension, Jesus withdraws to Heaven so that he may be with us in our hearts. May you know his presence as you pray for others and await the Spirit of Pentecost.
Jesus said, 'Peace I leave with you; my peace I give to you. I do not give to you as the world gives. Do not let your hearts be troubled, and do not let them be afraid.'
With my love and prayers for you,
All Saints Vicarage
The Feast of the Ascension Thursday 21st May 2020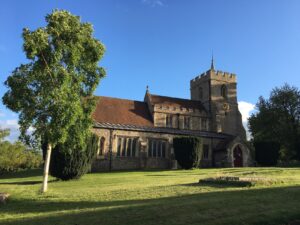 Dear Friends,
When I started my 'Keeping in Touch' letters/posts, I didn't really envisage writing more than four or five of them. And here we are at number 9. Not quite enough for a book yet, but well done for sticking with me. And although the lockdown was eased this week, I suspect there are many weeks ahead of us when we will need to carry on 'keeping in touch' at arm's length – or two arms' length.
Staying connected on the phone and via social media, Zoom and all the rest is great. But if I am honest it is also tiring. I guess many of you are feeling that too? Our brains have to work harder to process only hearing a voice over the phone, or hearing the distorted voice and random background noises on a Zoom meeting or Skype call. We don't have body language or non-verbal cues to help us. We make an amusing aside and find our voice clashes with someone else's over the internet and no-one hears either person: chaos ensues. You do a round of phone calls and suddenly it's lunchtime and you've got nothing else done.
I realise this is beginning to sound like the beginnings of a rant. But I think all I'm saying is that it's great that we can keep in touch as we are doing, but that doesn't mean it's not tiring. Our conversation is very binary – we're either on transmit or receive – and we're not used to that. We're used to something that feels much more two way and responsive. So don't beat yourself up if you're finding this a bit wearing (on top of all the other things you're dealing with – whether that be feelings of loneliness and isolation, or the feeling that everything is on top of you – family, work, social life – in a confined space!).That's why even a shouty chat on the driveway or across the fence feels like a breath of fresh air.
With all this in mind, I am reflecting that for the last few weeks I have been on 'transmit' a lot – transmitting services, transmitting these updates, transmitting signpost – and I would like to switch to receive and ask for some feedback. With the easing of lockdown, the Church of England is considering when we can return to our buildings. However, we are still a long way off gathering for Sunday Worship. So, I would like to ask for two pieces of feedback: 1. What have you found helpful in sustaining our church life and would like to see continue while we can't meet in person? 2. What would you like to see continue after we get back in the building and what would you like to return to how it was before? Please let me know by email or give me a call.
Relationship is a two-way street. It is more than transmit and receive. It's something much richer, with sight, and touch and tone of voice, and body language and stepping into each other's space (within reason!). And this is how God relates to us. When humanity kept missing the point and turning away from his love, he didn't just turn on a big heavenly transmitter with booming loudspeaker. He came to be with us as the person Jesus. The Son stepped into our space, into the complexity and richness of human relationships to call us into relationship with his heavenly Father.
Today is the Feast of St Matthias the Apostle and the Gospel reading is Jesus' commission to his apostles, 'go and bear fruit' (John 15.9-17). But before sending them to bear fruit, Jesus invites them into a loving, sustaining relationship with the Father:
As the Father has loved me, so I have loved you; abide in my love. If you keep my commandments, you will abide in my love, just as I have kept my Father's commandments and abide in his love. I have said these things to you so that my joy may be in you, and that your joy may be complete. (John 15.9-11)
I'm not sure any of us feel our joy is complete in this current situation, whether we have been directly affected by the virus or not. But we can rest in the knowledge that God joys in us and calls us into relationship with him. And wherever we can bring some of God's joy into our relationships we are bearing the fruit of his kingdom.
With my love and prayers for you,
All Saints Vicarage
The Feast of St Matthias, Apostle Thursday 14th May 2020
Dear Friends,
This week I have given Keeping in touch over to update you about Christian Aid week and our plans for our United Service. As you will know, this year we are unable to carry out the usual house to house collection due to the Covid-19 restrictions. And we are not able to worship together in one of our churches – it was our turn at All Saints to host this time.
However, through the wonders of technology we can worship and meet together and we can still raise money for Christian Aid. We know that the poorest in the world will be worst affected by coronavirus. How do we know this? Because they are worst affected by the injustices of our world, worst affected by natural disasters, worst affected by disease. And worst affected by Climate change. Christian Aid works with local partners around the world to make a difference in the name of Christ. Perhaps I'll let them say it in their own words. Here is a message from Christian Aid about the week and their response to Covid-19:
This year's Christian Aid Week will undoubtedly be a different experience, but we know supporters like you will make it the same life-changing and joyous week we've run since 1957. Now, more than ever, our gifts, prayers and action are desperately needed as our partners strive to continue their work with poor communities worldwide, as well as working hard to reduce the impact of covid-19 on the communities they work with. The world's poorest countries have the weakest health systems, and many of the most vulnerable people are now being exposed to this deadly virus. They'll struggle to get the healthcare they need, and with the added cost of not earning a living while in lockdown or quarantine. Our partners are already embedded in these communities working on your behalf to limit the impact of covid-19. You can find out more about what we are doing on our Coronavirus Appeal page.
I know that many people have taken a financial hit due to the current situation, and I know that I am also encouraging you to give to All Saints so we can continue to resource our ministry. But if you can, please do make a donation to Christian Aid this coming week to support their great work.
Our Plans for this Sunday
9.30am Kings Langley Churches United Service for Christian Aid week
A pre-recorded video service available on Facebook, via the website, or on our YouTube channel.
10am Zoom worship for Children and Young people
Children and families will receive details
10.30am Zoom Coffee and Q&A with Deborah Auty, Head of Communications Christian Aid
You will receive details for this via email as usual
Events you can join in with on the Christian Aid website: Virtual fundraisers
Sunday 10 May, 1.00pm
Live-streamed Christian Aid Week service with Dr Rowan Williams.
Monday 11 – Saturday 16 May, 11am
Live daily reflections from our staff and partners overseas.
Sunday 10 – Saturday 16 May, 7.30pm
Daily fun quizzes for the whole family throughout Christian Aid Week.
I am writing this on the Eve of the feast of Mother Julian of Norwich. Mother Julian (1343-1416) was an anchoress for much of her life, choosing to live in almost total seclusion in a 'cell' (small room) attached to a church, in (that's right) Norwich. Here she gave counsel to people from the window of her cell, made clothes for the poor and prayed. And here she wrote the earliest surviving book in English to be written by a woman, 'The Revelations of Divine Love' in which she records visions and conversations with God.
Mother Julian is famously associated with the quotation, 'All shall be well, and all shall be well and all manner of thing shall be well'. This theme, or a variation on it, crops up several times in her book. On one occasion Mother Julian reflects that 'all' refers to that fact that nothing is beyond God's love, from the big stuff (coronavirus, climate change, injustice, poverty), to the small stuff (that's you and me, every person on the planet): 'for he wants us to understand that not the smallest thing shall be forgotten'.
God won't forget you or me, small though we are when faced with the big problems of life, the universe and everything. Christian Aid week is an opportunity to help make sure someone else is not forgotten in the face of the big stuff. And an opportunity to help put some of the big stuff right too. An opportunity to say with Mother Julian, 'All shall be well'.
With my love and prayers for you,
All Saints Vicarage
Eve of the Feast of Julian of Norwich, 7th May 2020
Dear Friends,
I hope you made the most of your week off last week – your week off from my ramblings! Rachel and I were on our post-Easter break. We had wonderful weather in our chosen destination – the back garden, and we made some progress in making it more representative of the word 'garden' and less of the word 'wilderness'. We don't have much gardening expertise, but fortunately it doesn't take too much of that to identify and dig up brambles!
The Garden is the setting for the story of salvation. God places humanity in a garden at the beginning. The prophets speak of Israel as a vine in God's vineyard (OK, bigger than a standard garden, but still, it's cultivated), and of a new Israel where trees with healing leaves will grow beside a river flowing from a restored Temple. It is in a garden that Jesus prays to his Father to 'remove the cup of suffering' on the night he is betrayed. And he is brought back to a garden to be laid in the tomb. On the first day of the week, the first day of the new creation, Mary Magdalen encounters the risen Jesus in the garden.
Gardens are symbolic of life and growth. But they can just as easily be symbols of chaos! God's prophets speak of the need to prune, even to burn down, the vine of Israel (Ezekiel 15). Jesus speaks of himself as the true vine, and his followers as the branches, but also of the need to prune the branches that bear no fruit (John 15).
In the last issue I was encouraging us to think about two of our diocesan values: Generosity and Joy. Our response to the joy and generosity that God gives us in Jesus is to live lives of joy and generosity, towards our loved ones, our community and our church family. The other two diocesan values are imagination and courage.
God re-imagined the world in the person of his Son. In the garden that had run wild, he sent the Son to be the gardener. The garden of creation had got out of tune with God and only the Son of God could put that right. That took courage too – the courage Jesus prayed for in the garden of Gethsemane. Jesus gave up his human life that we might share in his resurrection, in the life of God. That we might be re-imagined into the likeness of Christ.
This is a time of uncertainty, anxiety and hardship for many people. Even here in Kings Langley things are tougher than usual. Some Christians may say that this is a time of pruning, a time of being tested in our faith. Perhaps that is so – as many a sports fan will testify it is a test to 'keep the faith' when things are tough. But rather than setting us tests of our faithfulness, I believe God comes alongside us in the testing times. He comes alongside us and says have courage, have imagination. At the heart of the word courage is the Latin word 'cor', heart. God says many times to the people of Israel, 'take heart', and then shows them his imagination of a new world. Jesus too says, 'take heart' to the people he heals, the people he makes part of the Kingdom God is imagining in him: 'your sins are forgiven', 'your faith has made you well'.
God calls us to imagination and courage too. He calls us to act with courage and imagination in the garden of the world. To imagine how we can be Good News to the people around us: offering patience, a listening ear, prayer and practical help where we can.
And God says 'take heart' to each of us. He calls us to tend the garden of our own minds and hearts, not just of others. In this uncertain time it is important to look after our mental and spiritual well-being. Below are 5 top tips for doing that. For those of us who can get online, head to the prayer resources section of the (new look!) website. There are lots of ideas there for daily or weekly prayer, including broadcast media. I have listed the latter below as a reminder for those of you who are not online.
Be strong and take heart, and do not be afraid: for it is the Lord your God who is going with you; he will not take away his help from you.                                            Deuteronomy 31.6
With my love and prayers for you,
All Saints Vicarage
Feast of St Catherine of Siena, Wednesday 29th April 2020
Dealing with Loneliness and Isolation: 5 Top Tips
Pray – light a candle, if safe, and pray for hope, faith and strength. You can do this virtually HERE.
Talk about how you feel.Use the phone, internet and social media. If you need to contact a counsellor, this can be arranged by your GP, local agencies or privately. Samaritans are there 24 hours a day, every day, and it's free to call them on 116 123.
Focus on the things that you can change, not on the things you can't.
Look after yourself – physically, emotionally, spiritually. Plan to do things you enjoy each day – a TV programme, a phone call, a book, a favourite dish, a game.
Look after others – even if only in small ways: a kind word, writing a letter or an email.
Online Prayer Resources
Broadcast Media
BBC Radio 3 (90.5FM and DAB) Recordings of Choral Evensongbroadcast – 3.30pm Wednesdays, repeated Sundays 3pm.  And on BBC Sounds / catch up HERE
BBC Radio 4 (198 LW and Digital Radio) Daily Service– every day at 9.45am.  And on BBC Sounds / catch up  HERE
BBC One Songs of Praise – Sundays at 1.15pm and BBC Iplayer HERE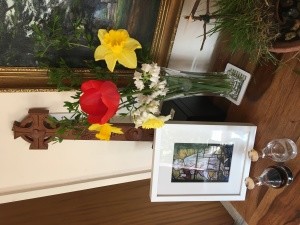 Dear Friends,
Staying positive is really important at the moment. We are all feeling the effects of the continued lockdown: loneliness, anxiety, paranoia every time we cough more than once (thank you Sarah Wragg for your definition of this: 'Coronoia'!), the inconvenience and stressfulness of the shopping experience – although we are very lucky to have everything we need on the doorstep in the village.
Of course, for most of us this situation is only inconvenient and worrying. There are many who are having a much more difficult time: NHS staff, key workers, the vulnerable, the bereaved. Nevertheless, all this worry, isolation and distancing isn't great for our mental health. So how do we stay positive? I'm going to suggest two things: joy and generosity.
You may remember that our diocese has 4 values:  Generosity, Joy, Imagination and Courage. And those first two floated into my head as I was thinking about how we can stay positive.
Joy is the antidote to the feelings of depression many of us may be experiencing. Joy isn't a forced happiness (look at many a famous comedian and their struggles with depression), but the peace and wholeness we feel when we experience 'rightness': that feeling of being in tune with the world, with others and with God. Generosity is the antidote to being closed in on yourself, focussing on the negative and all the things none of us can change right now. Generosity is as much about being open to receive the help and kindness of others as it is to give that help yourself. It's as much about bearing with the people around you as it is about helping others – though where we can do that, that is a great offering of generosity.
If we can find opportunities for joy and generosity in this strange time, we will experience something of the glory of Easter. In God's generous love for us he raises us to new life in Jesus. The tomb is open, and God offers us the life of his kingdom both now and in eternity.
As God's people we are called to offer joy and generosity to our community. In order to do that, even though our building is closed, we still need to pay our bills, support our ministry and contribute to the wider church. We rely on your generosity – we don't receive any support from the Government or the central church. Easter is a great time to review our giving as we respond to the generous love of God. Perhaps you have not reviewed your giving for a number of years? Perhaps you do not yet give regularly to All Saints? Now more than ever we want the church to be there for people, bringing positivity and hope. Your generosity enables that. In more normal circumstances we supplement our income with hall hire and fundraising, both of which we cannot do just now. I recognise that some of us have taken a worrying hit to our own finances and will not be able to review our giving. If you are in any need please get in touch and we will liaise with Kings Langley Good Neighbours to support you – or get in touch with them directly: www.klgna.org or 07790 668672.
If you are able to review or start giving you will know what is realistic as well as generous for you. You can give either by cash or cheque (payable to the PCC of All Saints Kings Langley) in an envelope each week or month – you will have to save these up at home until we can meet together – or by standing order from your bank account. To join our planned giving scheme, to sign up to gift aid, or to change from the envelope scheme to standing order please contact Eric Martin: 01923 267604. To make a one-off donation please contact our treasurer Patricia Humberstone: allsaintstreasurer@btinternet.com. You can also use the QR code on the website. Please gift aid where possible.
Many clergy do not like writing or talking about money. It isn't my favourite subject! However, it is necessary to be realistic and responsible about resourcing the ministry we want to offer our community. In this difficult time, we are called more than ever to offer our community a glimpse of the joyful life God offers us in the risen Jesus. I hope you will be able to consider your own generosity in response to God's generous love for you.
Jesus said, 'I came that they may have life, life in all its fullness'. (John 10.10)
With my love and prayers for you,
All Saints Vicarage
Thursday of Easter week, 16th April 2020
Dear friends,
Is anyone else finding that despite the gift of all this time, the days are running away as fast as ever? Limited trips out, no school run, no visits to friends, no commute. Not even the stroll down the High Street that was mine. But all this extra time is not standing still.
Take me, yesterday afternoon. From 2.00pm – 3.30pm I had a meeting with other clergy via Zoom (I'm becoming all too familiar with this now!) and the next thing I know it is 6.30pm. Sure, I haven't done nothing. I've made some notes from said meeting, made a couple of phone calls, read/answered some emails, streamed Evening Prayer. And made an Easter Garden. But for all that I can't believe three hours have gone.
When the lockdown began we all had grand plans for all this 'free time'. But reality is setting in now. Time is not standing still and we have new tasks to fill it with. Some of us are on the 'phone a lot more. Some of us are working from home – some will find this easier than others! Some of you are wearing four hats as parent, teacher, colleague, friend. Some of us are anxious, for ourselves, our loved ones, our economic situation – just anxious with the whole uncertainty of it all. Anxiety will eat through time at a rate of knots.
The thing is, we've lost most of the usual markers of our day. Some of the ways that we could say this is this time, and that is the other time. Work time, home time, pilates time, lunch club time, church time… Music isn't complete without rests. And our normal life has lots of little rests, changes of tempo as we move from one thing, one place, to the next. But now most of us are spending the day in the same four walls, with the same (lovely!) people. Work-space-is-home-space-is-fun-space. And without the boundaries that vary the flow of time, it can feel like we're galloping along not really getting anywhere.
If like me, you're beginning to feel like that, Holy Week is perfectly timed. In Holy Week the Church gives us all sorts of pauses. We are invited to walk with Jesus in his Passion. To pause with him as he gives us himself in the Last Supper. To wait and watch with him in Gethsemane. To meditate on his cross. And then to wait with bated breath on Holy Saturday. That day of absolute rest between the crucifixion and the resurrection.
'On the Seventh Day God rested'. Even God blocked out a day in the diary to rest. Those words are from the Creation story of course. But they apply to Holy Saturday too. Saturday is the seventh day of the week, the Jewish Sabbath. The day God rests. Creation holds its breath. God rested on the seventh day before. What will he do on the eighth day this time? Last time he threw Adam and Eve out of the garden of Eden – the picture of how we shut ourselves off from his love, and the love and care of others. What will he do this time?
As we approach the three most Holy Days of Holy Week – the Triduum – rest in the knowledge that God rested. If you need permission to rest from the things that are running away with your time, it's right here. God rested. If you need permission to set some boundaries on your day, to give it some rhythm, go for it. God did.
I commend our Holy Week services to you as time to rest with God. And if you are not online, I commend the Daily Prayer booklet to you as well as the service sheets you'll have received: you may wish to read along with these at the time shown on the cover so that we are all pausing with God and with each other.
Time carried Jesus from gethsemane to the cross to the tomb. But then God rested. Rested in order to re-create. May these most Holy days give you the opportunity to press pause and know the re-creating love God has for you. Be kind to yourself in this time. God stood still because of his loving-kindness for you.
Be still and know that I am God. (Psalm 46.10)
With my love and prayers for you,
All Saints Vicarage
Holy Wednesday 8th April 2020
Services during the Triduum
Thu & Fri         Live Stream Morning Prayer 8.30am & Evening Prayer with a reflection 5pm
Maundy Thursday 9th April
7.30pm LiveStream Eucharist of Maundy Thursday (order of service)
Good Friday 10th April 
9.30am            Children's reading, talk and prayers 
10am               Live Stream Stations of the cross
12noon            Live Stream Liturgy of Good Friday (order of service)
Saturday 11th April
8.30pm            Live Stream The Vigil Readings  †
SUNDAY 12th April: EASTER DAY
9.30am            Live Stream Eucharist of Easter Day (order of service)
11.15am          Children's reading, talk and prayers

† The Vigil Readings are listed in the back of the Liturgy of Good Friday booklet
Dear Friends,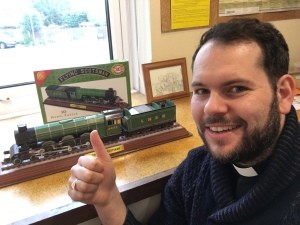 Well into the second week of 'Lockdown', most of us are settling into some sort of routine. Lots of people are talking about a 'new normal' but I don't think we're there yet. And there's no rush – it looks like we might have months to practice this new 'normal'. Is it just me that feels daunted by that? Especially as we see the weeks stretching ahead and know that we can't visit our relatives, or hug our friends, or stroll down the street without a mental (or physical?!) 2m broom handle between us and our neighbours. How can we find normality in that? How do we find connection, community and society?
I have never been one for technology. I've only had a smart phone for 2 and a half years. We don't have Netflix or Spotify or Amazon Prime in the Vicarage (and I'm still only vaguely aware of what these things are!). But in this strange and challenging time, I have found the wizardry of technology to be a real blessing. I have skyped for the first time, used Zoom for the first time and live streamed worship (not for the first time, as we have done this before from church). Imagine if all this had happened 20 years ago, even 15 years ago. We would have been even more isolated from one another.
I am conscious that some of you reading this are not online, so I am sorry for the preceding paragraph! At least we have addresses and phone numbers so we are able to stay in touch by 'phone and paper. Do give me a ring if you would like to chat. And if you would like to be partnered with someone for prayer get in touch and I will partner you with someone. Prayer can be very effective on the 'phone – you may like to use the Daily Prayer Booklet or the Spiritual Communion sheet you've received.
We are about to enter into Holy Week. It will be one of the strangest the Church has ever celebrated. But Holy Week is full of strangeness. God's only Son enters his own city as a king… riding on a donkey. The crowds acclaim him as 'Son of David' (a royal title) on Palm Sunday… the same crowd condemns him as a pretender on Good Friday: 'Crucify him!'. The Lord of all stoops to wash dusty human feet. He breaks bread and says, 'This is my body'. God suffers and dies in his humanity on the cross. The one who knows us all by name is laid in a stranger's tomb. Expecting to anoint a body, the women are greeted by angels: 'He is not here; he is risen'. It couldn't get much stranger than all that. Perhaps in more normal circumstances we take it for granted? Perhaps the strangeness of our own circumstances will bring out the strangeness, the life-transforming nature of Holy Week.
At the heart of it all is Jesus. He becomes more and more distanced from his people, his disciples, and even his Father. He becomes physically, socially and spiritually distant. He is completely cut off on the cross. The one in whom all things hold together and from whom everything has its being becomes totally isolated for us (see Colossians 1.15-20). Yet on the first day of the week, the first day of the new creation, he becomes the resurrection and the life, he brings everything back into wholeness. He is God's own promise that nothing can separate us from his love.
In this strange time, let's ask God to help us reflect the hope-filled message of Holy Week. Let's be people who help to keep hope, wholeness and connection flowing in our community. Let's be people who live the truth that nothing – not even this strange 'new normal' – can separate us from the Love of God we find in each other. As symbols of this, I'm inviting you to hang a green branch on your front door or in a window on Palm Sunday.
Below is an outline of our services this Holy week (all available on our Facebook page or via our website). I have indicated where these are live-streamed and which services will be available as hard copies. May each of you have a blessed and Holy Week.
With my love and prayers,
All Saints Vicarage
Commemoration of F. D. Maurice, 1st April 2020
SUNDAY 5th April: PALM SUNDAY
9.30am            Live Stream Eucharist. * NB Please make or draw a cross or palm to be blessed! 
11.15am          Children's reading, talk and prayers
Tue – Fri          Live Stream Morning Prayer 8.30am & Evening Prayer with a reflection 5pm
Maundy Thursday 9th April
7.30pm            Live Stream Eucharist of Maundy Thursday *
Good Friday 10th April 
9.30am            Children's reading, talk and prayers
10am               Live Stream Stations of the cross *
12noon            Live Stream Liturgy of Good Friday *
Saturday 11th April 
8.30pm            Live Stream The Vigil Readings * †
SUNDAY 12th April: EASTER DAY
9.30am            Live Stream Eucharist of Easter Day *
11.15am          Children's reading, talk and prayers
* Hard Copy booklet for those not online
† The Vigil Readings will be listed in the back of the Liturgy of Good Friday booklet
Dear Friends,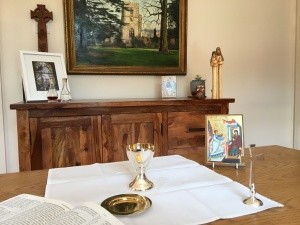 Since last Saturday Rachel and I have been 'confined to barracks', just as a precaution, to play our part in protecting our community and our NHS.
We are among the lucky ones of course. There are thousands of people in our country who will be completely self-isolating for many weeks, including those who are over 70, those with underlying health conditions and those who are 'shielding' them – acting as the break in the chain of the virus' spread so as not to pass it on to their loved one. Not to mention those who are ill or bereaved. It is a disorientating and frightening time. 
And yet, we are seeing silver linings in many ways: the offers of help and support in the community; the enforced gift of time we have been given; the chance for many of us (well, me anyway!) to explore new technologies and what it means to be social, what it means to be the Church, at a distance. But the fact remains that we cannot be physically present to one another as the Church family and we cannot receive Communion physically and these are painful things for many of us. As well as the sense of loss we feel in not being able to be with family members and friends.
In this time when we cannot meet together as the church – as of Monday 23rd, cannot even pray privately in the church building – what can we fall back on? Whenever anyone has been unable to receive Holy Communion, the tradition of the Church has been for people to make a 'Spiritual Communion'. St. Thomas Aquinas wrote about this, saying we should have "an ardent desire to receive Jesus in the Holy Sacrament and a loving embrace as though we had already received Him". And the Anglican Tradition is not without this idea too (partly influenced no doubt by Calvin's conception of a real Spiritual Communion with Jesus when receiving the symbolic bread and wine). The Book of Common Prayer, which is still the touchstone of Anglican liturgy and theology (admittedly more a source than an arbiter!) has this to say in the provision for the Communion of the sick:
But if a man, either by reason of extremity of sickness, or for want of warning in due time to the Curate, or for lack of company to receive with him, or by any other just impediment, do not receive the Sacrament of Christ's Body and Blood: the Curate shall instruct him that if he do truly repent him of his sins, and steadfastly believe that Jesus Christ hath suffered death upon the Cross for him, and shed his Blood for his redemption, earnestly remembering the benefits he hath thereby, and giving him hearty thanks therefore; he doth eat and drink the Body and Blood of our Saviour Christ profitably to his soul's health, although he do not receive the Sacrament with his mouth.
We have had one Sunday's worship where we have begun to learn for ourselves what Spiritual Communion means. I hope these thoughts will help you to find your way through it. Though it is not the norm, or the best, for God's people, it is nevertheless a form of Communion. So, we will continue to share in Communion Sunday by Sunday, separately in our homes and together in the heart of the one who comes to meet us. We will repent. We will remember and trust in Christ's death and the benefits he has won for us, with thanksgiving. We will receive the Body and Blood of our Saviour Christ profitably to our soul's health, although we do not receive the Sacrament with our mouth.
The Church is not defined by the walls of a building, wonderful as ours is, but by the Body of Christ of which we are a part. In making our communion spiritually, we are joining with Christians everywhere to be fed by the one who tells us, 'I am the Bread of Life'. 
With our online prayer resources (click on the picture below) is an act of Spiritual Communion which you can use at any time – perhaps each morning, or on a Sunday after the live-streamed Eucharist, or as prayer before sleep. I commend this to you alongside or instead of some of the other material available. If you have any questions about using this, please do get in touch with me.
As my spiritual director would say, 'pray as you can, not as you can't'. This is as good a time as any for each of us to revisit how we pray and what sits right with us. May you find ways that are fruitful for you.
"He rained down upon them manna to eat and gave them the grain of heaven."           
        Psalm 78.24
With my love and prayers for you,
All Saints Vicarage,
Friday 27th March 2020
Dear Friends,
In these difficult times, it is easy for us to feel isolated and disconnected from each other and our worshipping life. I'm delighted that many of us shared in worship at the weekend, either online or by joining in lighting a candle and praying at 7pm on Sunday.  To keep you going in prayer and worship I've put together the below list of what we have access to so far.  Hopefully this will help sustain us as a community of faith and in service to our neighbours.  The Red Letter Days calendar also helps give a little focus to special days and Sundays during the next couple of months.
Little and often is a good way to approach prayer, rather than saving it up for one "big" pray on a Sunday or in times of crisis!  By building up a pattern of regular prayer we are more able to weather the storms and tests of life.
I have listed the resources below.  They are local and national, internet and non-internet based.  If you find other things worth sharing, please do!  These suggestions are arranged in an ascending order of "techiness", beginning with the low!
With my love and prayers,
Our Church
At the present time the church is closed in line with government instructions. We hope that we will be able to reopen the doors soon when the following will apply:
Our beautiful church and churchyard are available for private prayer and contemplation. 
NB Please keep a safe distance (2m) apart from other people who might be visiting.  Please do not use our church if you feel unwell (pastoral support via the telephone can be offered instead).  Please wash your hands before and after your visit.
Daily Prayer Booklet
The 'Daily Prayer' booklet outlines a simple service of prayer for each day of the week, with a suggested reading and psalm for each week of the month. This order of service can be used at any time of the day. You may like to set aside a quiet space with a cross or an icon in which to say it. You may find it helpful to allow some small silences between each part of the service leaving space just to be with God and to let God be with you.
Sundays and Red Letter days
Click on the image below to see this – it suggests themes for prayer and reading for every Sunday between now and Trinity Sunday (7th June) and for some of the 'Red letter days' that fall on weekdays. You may like to use these as an extra resource and guide to prayer when using the Daily Prayer booklet.
Prayer partnering
Using the daily prayer booklet or other materials, prayer can be very effective over the telephone.  You may have a friend you would like to partner up with for prayers, or contact Fr. James if you would like to be "partnered."  Fixing the same time each day can be helpful in giving some structure to this time.
Broadcast media
BBC Radio 3 (90.5FM and DAB) Recordings of Choral Evensong broadcast – 3.30pm Wednesdays, repeated Sundays 3pm.  And on BBC Sounds / catch up.
BBC Radio 4 (198 LW and Digital Radio) Daily Service – every day at 9.45am.  And on BBC Sounds / catch up.  
BBC One Songs of Praise – Sundays at 1.15pm and BBC Iplayer
Here on our website You can join Fr. James in Morning and Evening Prayer Tuesday – Friday; there is a link to the Church of England website to download the order of service. On Sundays, we'll stream the 9.30am service through our website and the order of service can be downloaded as a pdf. There is also a new section of 'Prayer Resources'.
St Albans Cathedral are developing online and live-streamed worship and prayer resources www.stalbanscathedral.org
All Saints Vicarage
Eve of the Feast of the Annunciation, 24th March 2020